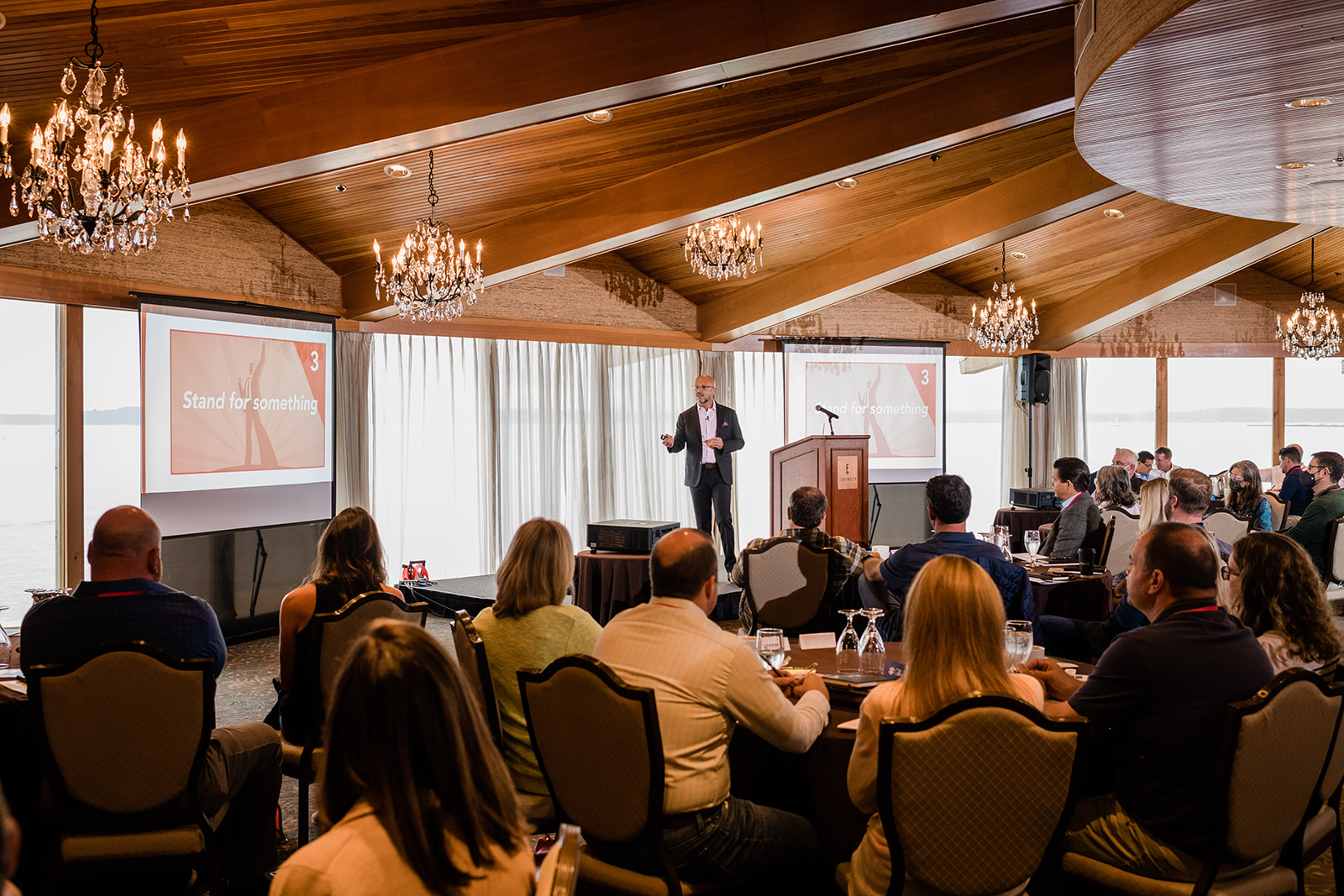 Q4LIVE AGENDA
Welcome to our agenda-in-progress. We will continue adding to this as we confirm speakers and specifics on topics and sessions. Check back for more details!
2:00PM - 2:30PM
STUDIO BALLROOM
WELCOME & OPENING
Kevin Trokey | Founding Partner & Coach at Q4i
2:30PM - 3:30PM
STUDIO BALLROOM
KEYNOTE
Colette Carlson | H

uman behavior expert and CPAE Hall of Fame motivational keynote speaker
3:30PM - 4:00PM
STUDIO BALLROOM
FRIENDOR INTRODUCTIONS
Meet our Friendor Sponsors and learn about their services.
4:00PM - 5:30PM
STK WEST ROOFTOP AT THE ANDAZ.
FRIENDOR HAPPY HOUR
Join us for a happy hour networking event and enjoy wine, beer, and cider while mingling and getting to know our Friendor Sponsors and their services.
6:00PM - 9:00PM
PUNCH BOWL SOCIAL
GROUP DINNER
Grab your Q4Live friends and head to the Punch Bowl Social for dinner, drinks, bowling, and games.
*Location is a 3-minute drive or 10-minute stroll from the conference. Vegetarian, pescatarian, and gluten-free diets accommodated.
7:45AM - 8:30AM
STK WEST ROOFTOP AT THE ANDAZ
BREAKFAST
8:30AM - 12:00PM
STUDIO BALLROOM
MORNING SESSION
Q4i Growth Platform Impact Stories
Marketing: Taylor Lindsey | Partner, Employee Benefit Consultants

Hear the story behind EBC's brand and learn how we engage with local markets.

Sales: Zach Feller | Vice President, Keystone

Understand the impact of accountability and get yourself back to the basics of sales and management.

Service: Generous Benefits Team, Kalinda Dunn, Lian Loop, Nancy Mace, and Lindsay Bready, Bret Brummitt

Hear how we work cohesively as a team, manage client service, and use software products to communicate and stay on task to deliver an exceptional experience.

Leadership: Joel Daniels | Founder, Revolution Benefits Group

The path of leadership is rarely straight. Hear how continual learning, personal development, and growth matter to leadership and the path you pave.
iTalks Growth Stories
Mike Staebler | Partner & Benefits Consultant, S3 Partners
Josh Butler | President, Butler Benefits & Consulting
12:00PM - 1:30PM
STK WEST ROOFTOP AT THE ANDAZ
LUNCH
1:30PM - 4:30PM
STUDIO BALLROOM
AFTERNOON SESSION
Leveling up Your Growth: Heidi Rasmussen | Co-Founder & CEO, freshbenies
It's been said: "When you stop growing, you start dying." Hear Heidi's three important actions she's taken for continued growth in her life and business. She'll explore the importance of constant learning, driving change, and leading people well. You'll leave this session with real-life tips and tricks to level up your growth.
Marketing and Prospecting for Pipeline Growth Carly O'Connor | Sr. Channel Account Manager, HubSpot and Wendy Keneipp | Partner, Q4intelligence
Having spent her career in sales as an award-winning salesperson, sales manager, and sales trainer, Carly O'Connor knows what it takes to find and close deals.
Wendy and Carly are going to have some honest talk and dissect what it takes to have a healthy pipeline and higher close ratios. Hint: find a good dose of discipline 😅 and embrace your technology. 🧑🏽‍💻
5:00PM - 7:00PM
STK WEST ROOFTOP AT THE ANDAZ
COCKTAIL HOUR
Join your Q4Live friends for passed hors d'oeuvres, beer, wine, cider, and cocktails.
7:00PM
DINNER WITH Q4LIVE FRIENDS
Group up with your Q4Live friends and head out for dinner on your own.
7:45AM - 8:30AM
STK WEST ROOFTOP AT THE ANDAZ
BREAKFAST
8:30AM - 11:30AM
STUDIO BALLROOM
SESSION
Discussion: Diversity, Equity, & Inclusion (DEI) in the Workplace
Growth iTalks: Agency & Friendor Attendees
Making a Difference - Case Studies: Q4Live Friendors
GRAB YOUR TICKET
Rethink your business strategy, reimagine what's possible, challenge your beliefs, and make a network of friends and colleagues who will challenge and support you on your path to growth.
BECOME A FRIENDOR
Rethink the way you engage with agencies and advisors, your communication strategy for connecting, and strengthen your network to challenge and support you on your path to growth.